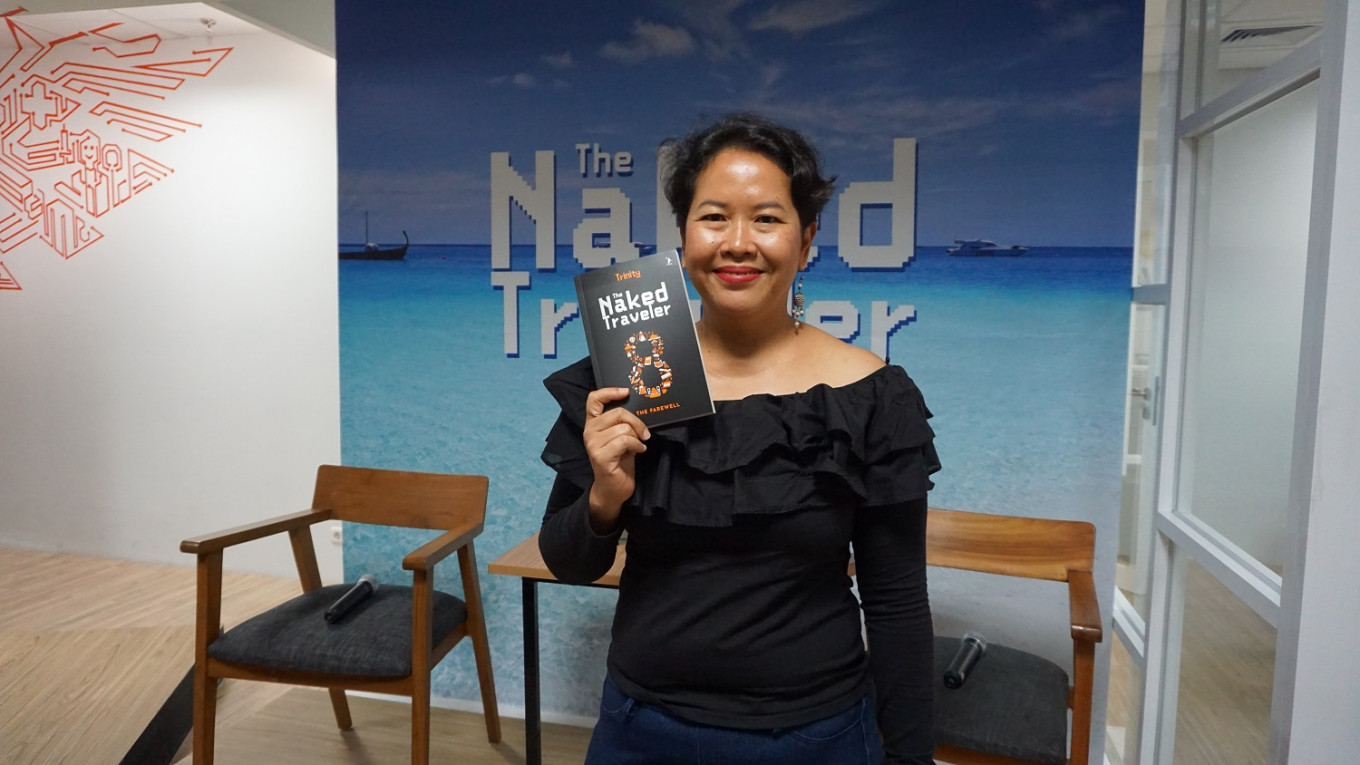 After seven books in the span of more than a decade, travel blogger Trinity is bidding farewell to The Naked Traveler series with an eighth book.
Since starting her travel blog, naked-traveler.com (a pun on the Indonesian word nekad), in 2005, Trinity's journeys around the world have attracted a loyal following keen to read up on her tell-it-like-it-is stories that were not all that common back in the day.
Now, after The Naked Traveler hasgrown with both writer and readers, Trinity feels ready to move on to the next journey in her life.
"I've been asked the reason [behind ending The Naked Traveler] by a lot of people, and the answer is that because I want to grow," Trinity told members of the media during the launch of The Naked Traveler 8: The Farewell on Jan. 11, coincidentally the same day as Trinity's birthday.
According to Trinity, she would like a fresh start as a writer, even enrolling in writing classes last year, as she felt that she had become complacent after being in her comfort zone for so long.
"Another factor is that the industry is not doing so well these days. Bookshops are becoming less common, and the readership is also in decline even though it was not that high to begin with," Trinity explained, citing several projects to gain more readers, such as a movie adaptation starring Maudy Ayunda and millennial-oriented books such as 69 Cara Traveling Gratis (69 Ways to Travel for Free).
"After this book […] I need to take some time to assess which direction I want to go, and truthfully I don't know yet where I want to go."
However, Trinity's fans need not fear, as she promised to keep her blog up and provide constant updates.
"It's the origins of The Naked Traveler, and I wouldn't want it to be a 'betrayal' to my longtime readers," Trinity said, adding that she considered the last book in the series to be a "see you" rather than a "goodbye".
In terms of writing, it is quite clear that The Naked Traveler 8: The Farewell feels much more "grown up" compared to its prequels, covering topics such as trying out online dating in Europe as well as the many travel annoyances one encounters even before boarding a flight.
"I'm not young anymore, and I don't travel the way I used to, like hitchhiking on a truck or sleeping rough somewhere. People tend to question why my traveling style has changed, so if I wanted to write a new series it would be for a different segment," Trinity said.
A chapter in the book even describes Trinity's trip in Almaty, Kazakhstan, where she had to use a walking cane because of a knee problem. Trinity titled the chapter "Berkat Luar Biasa" (Extraordinary Blessing) as she details an experience she describes as one of the nicest interactions she has had with a stranger throughout all of her travels.
"I met an Indonesian family in an airport in Kazakhstan, a country that isn't known to be disabled-friendly. We chatted for a bit, and they even bought me food. When it was time for us to board the plane, the son, who is in his 20s, said to me that I should sit in his place instead," Trinity recalled, noting that her books reminded readers that good people still existed whenever they went solo traveling.
"It turned out that his seat was in business class. I declined, but he insisted, saying that I needed the seat more so it wouldn't put too much of a strain on my knees. He ended up taking my place in economy."
After 11 years, Trinity acknowledged the effect The Naked Traveler hashad on its longtime readers, many of whom have been inspired by the series.
"It was one of the hardest things I've had to consider when I decided to end The Naked Traveler series. Many have told me they became bloggers, writers, or even solo travelers," she said.
True to this, The Naked Traveler 8: The Farewell includes a short chapter containing two reader submitted stories, which were selected from an open call from Trinity's blog.
"One fan even tagged me on her Instagram Story, which said 'Mbak, I grew up with your book, from when I was a virgin up until my second marriage'," Trinity recalled, noting that she still received fan mail through emails and comments on her social media to this day.
One moment Trinity still remembered vividly was during a meet-and-greet session with a paralyzed fan.
"The mother gave him The Naked Traveler books to read, and it was through my books that he knew about the world. The mother even thanked me profusely for it," she said.
When asked about her next plans, Trinity said that her hibernating plans had been put on hold to promote her book, as well as to work on her next book based on her two months writer's residency in Peru and Bolivia last year.
"As far as traveling goes, I haven't made any plans to go anywhere, but I still have my old target of visiting one new country each year." (hdt)
["source=thejakartapost"]