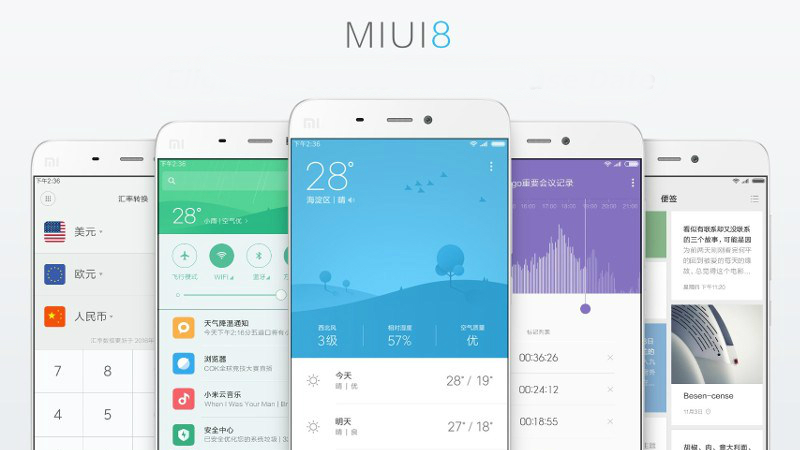 HIGHLIGHTS
The Mi Cloud Photo Sync feature keeps original files on cloud
It also allows two WhatsApp accounts to run simultaneously
It also brings the ability to take long screenshots.
Xiaomi first unveiled MIUI 8 in May, and launched the Global ROM in June at an event in New Delhi. After releasing developer previews, the Chinese manufacturer has now started rolling out MIUI 8 Global Stable ROM build for all eligible devices.
The Xiaomi Redmi 1S, Redmi 2, Redmi 2 Prime, Redmi Note 3 Qualcomm, Redmi Note 3 Special Edition, Redmi Note 3G, Redmi Note 4G, Redmi Note 2, Redmi Note Prime,Redmi 3, Redmi 3S, Redmi 3S Prime, Mi 2, Mi 2S, Mi 3, Mi 4,Mi 4i, Mi 5, Mi Note, and Mi Max (32GB variant) are all worthy of an MIUI 8 update.
A few devices will receive the update over-the-air (OTA) gradually over the coming week, while some are set to receive it in the 'near future.' In any case, all eligible devices can install MIUI 8 right now, byfollowing the steps here.
MIUI 8 was unveiled alongside the Xiaomi Mi Max in India, and the company had then promised for the stable build to release in August. Keeping its promise, the MIUI 8 with all of its new features is rolling out, and here is everything new that is arriving with the MIUI 8 Global Stable ROM.
1) Photos
The MIUI 8 brings in a host of new improvements to the Gallery like the introduction of Mi Cloud Photo sync. It keeps low resolution images locally, and uploads the original full size image to the cloud. Xiaomi also tweaked the way panorama shots are seen on the smartphone, and instead of the cropped square version, MIUI 8 displays them horizontally across the screen. It has also introduced a new video editing option where users can trim videos easily and add video effects. MIUI 8 brings quick sharing to the Gallery app, where the user can share a picture on different platforms by just swiping up.
(Also see: Xiaomi India on the Redmi 3s, MIUI 8, and Mi VR India Launch)
2) Quick Ball
The Quick Ball is nothing but a hovering button that stays on the display screen at all times. Users can customise five shortcuts into the ball, and it reminds you very much of Apple's Assistive Touch. The Quick Ball button also shows up on the lock screen, enabling users to use to shortcuts even on a locked smartphone.
3) Dual apps
Dual apps is a very nifty feature as it brings the ability to have two instances of any app running on the smartphone – such as two instances of WhatsApp. This essentially means you can run two separate WhatsApp accounts on one smartphone.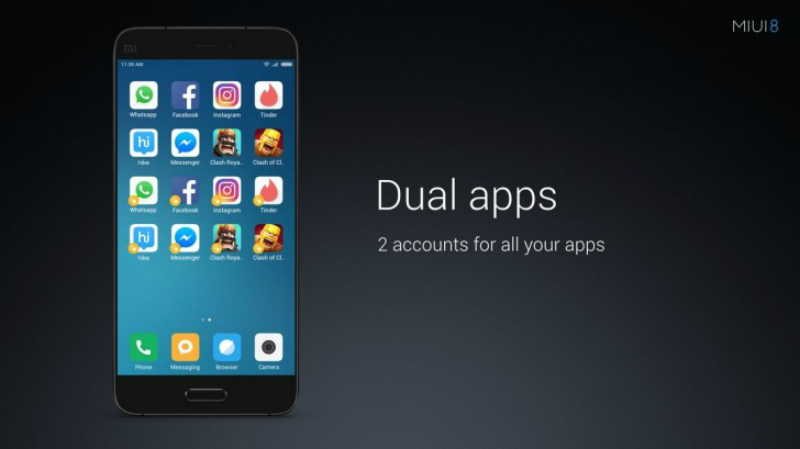 4) Second Space
The Second Space feature lets you do the work of two smartphones on one. It lets you have two Google accounts that you can switch whenever you please. By switching on the Second Space feature, and setting up a new account, users can keep their business and personal accounts separate, but on one smartphone. It allows users to switch between accounts through a Switch app, that shows up once the Second Space feature is enabled.
5) Scrolling screenshots
This should come in really handy for all the screenshot lovers out there. A screenshot is typically restricted to capture what is visible on the screen at that particular time, cropping out all the other content on a webpage. With MIUI 8, an entire webpage, no matter the length can be taken as a screenshot. To use this feature, press the Volume down and the power key at the same time. An animated icon pops up on the top right for five seconds. Click it immediately, and options to expand, edit or share show up. Click on expand, scroll up the space you want to screenshot, and press stop when you're done.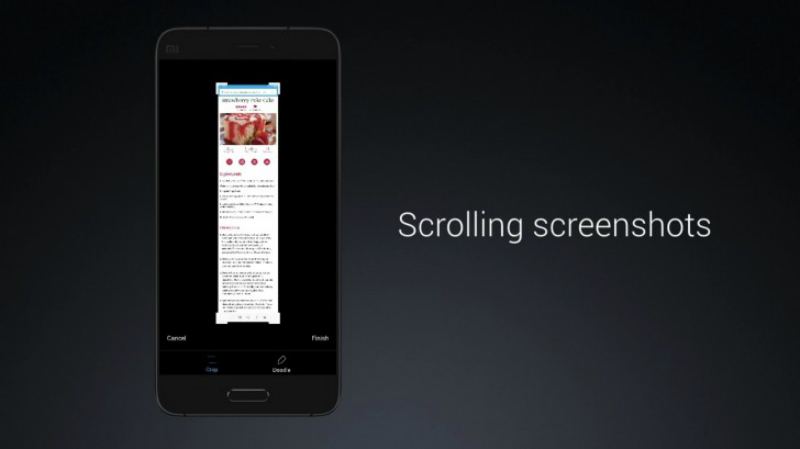 (Also see: How to Manually Download and Install MIUI 8 Right Now)
6) Caller ID and Dialler
With MIUI 8, Xiaomi has integrated caller ID into the system, thereby eliminating the need for third-party apps to perform the function. The dialler now lets you type in T9 Hindi directly from the dial pad, and it even enables T9 Business Search. This feature shows contact information of popular businesses around the area, irrespective if the number is stored or not.
7) Calculator
The Calculator app also sees a major redesign. Apart from doing the math, the app now will even convert weight, currency, and temperature.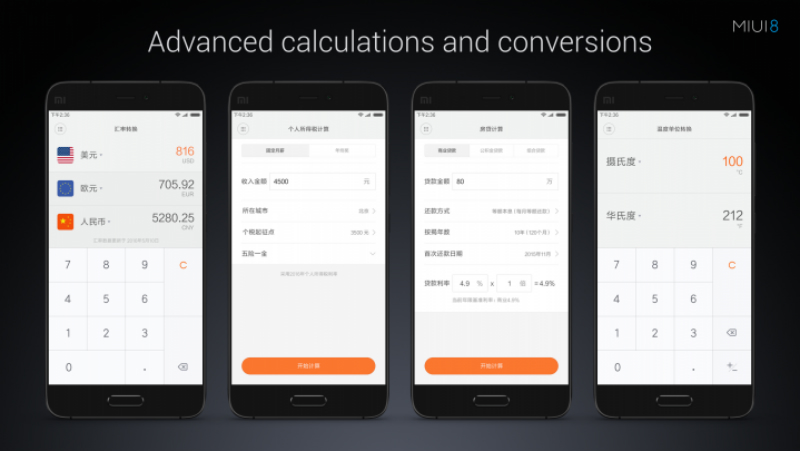 8) Messages
The caller ID integration expands into text messaging as well. MIUI 8 will detect a message, and if a text arrives from your bank (for example), it will show the name of the bank with a profile photo to make it look prettier. For example, HDFC Bank's SMS won't show up as VM-HDFC, but will instead show up automatically as just HDFC complete with a contact photo icon. The Messages app also introduced third-party integration, which means it will prompt users to do various functions depending on the message. A movie ticket confirmation from BookMyShow will allow users to add a reminder, and a low data alert from a carrier should prompt the user to recharge using one of the installed recharge apps. For this to work, Xiaomi has currently partnered with MobiKwik in India.
9) Notes app
The new Notes app in MIUI 8 sees a slight change in design, and can be seen in a grid format. It has a new Memo template feature that gives you a better design to work with, and even allows you to share on micro-blogging sites as is. It also allows users to set a password, or fingerprint access to a note for better privacy.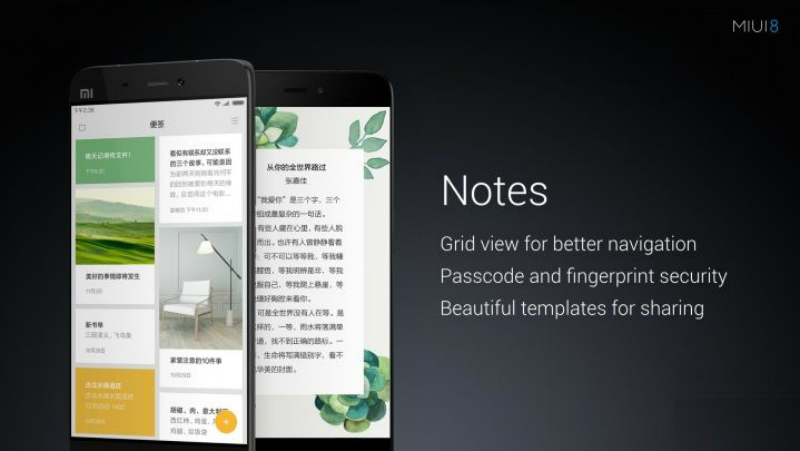 10) Ringtones and Themes
Xiaomi has partnered with Hungama to introduce latest soundtracks as ringtones for users. The ringtones will be made available free of cost. The company has also partnered with many other companies to provide many new wallpaper options, and because of its Theme Contest held in India, MIUI 8 will also see many new themes as well.
Share a screenshot and win Samsung smartphones worth Rs. 90,000 by participating in the #BrowseFaster contest.