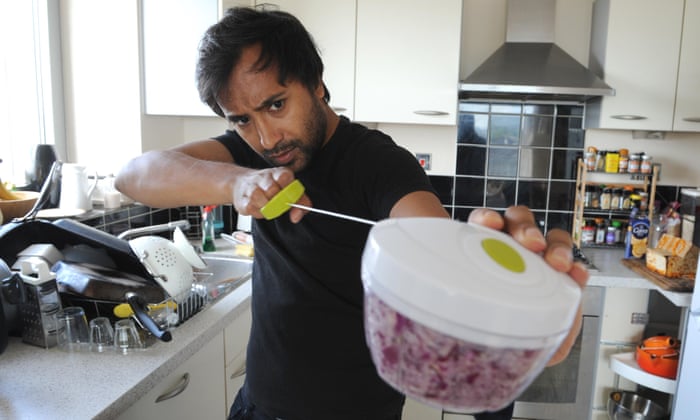 The first thing the mini-chopper shreds is my prejudice. Photograph: Jill Mead for the Guardian
What?
Taylor's Eye Witness Mini Chopper (£9, cookshopclearance.co.uk). Recoil-started, tri-tiered mini-blades, engaged by drive shaft mounted on a lidded bowl. Shreds veg.
Why?
Sometimes a bigger chopper just isn't worth the clean-up.
Well?
It's hard to make the case for this toy blender in a tub. It's made by Taylor's Eye Witness, whom I previously dismissed for having a name that sounds like a dating app for haberdashers. It operates by a pull-string, like those horrendous talking dolls that tell you they've fouled themselves and order you to love them forever. It looks embarrassing, the sort of thing one hides before a dinner party. (It's awful when you invite people over for 8 but someone shows up at 7, and catches you pulling on your mini-chopper. Who are these maniacs? Anyone who turns up early to a party should expect to lend a hand, I say. Maybe why people have stopped RSVP-ing to my invitations.)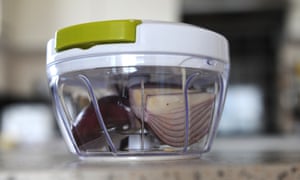 Not expecting much, I give it a go. And LET ME TELL YOU THE FIRST THING IT SHREDS IS MY PREJUDICE. First – but not least – it's fun to use. Whirring the blades by yanking the chain feels like starting an outboard motor. I prepped salsa verde by chopping parsley with basil in a flash, perfect for those who like it rough. Fancy something more refined? I discover I can work the chain as long as is required. Throwing in onion, I slice until the segments are diced ever smaller, to a fine brunoise. It's great for starting an ultra-quick slaw from cabbage and carrot. (Who doesn't hate chopping carrots by hand, the hard little orange ding-dongs?) It's not just what you do with it; size counts too.
I love my mini chopper – smaller than most lunchboxes, fully detachable and easy to clean. You won't be making peanut butter or pie crusts as you might in a blender or mixer, but no one's suggesting you replace one with the other. It's fun, kids will probably love it, but it's definitely not a toy. Definitely not. All back to mine for industrial quantities of coleslaw and rosti! Party starts at 8; early-comers will not be admitted.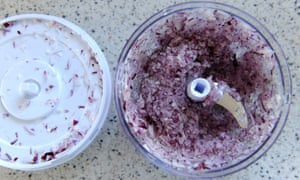 Redeeming Features?
One for anyone who struggles to hold a knife steady, though you will still need to quarter onions and chunk carrots to fit them into the diddy tub.
Counter, Drawer, Back of the cupboard?
Proudly on the counter/hidden in your doll's house. 4/5
["Source-ndtv"]