The best display and the best still camera belong to the same phone – the Apple iPhone X. Or at least if you believe DxO to be the ultimate authority on this, which you probably shouldn't. Anyway, the company gave the iPhone X 101 points for photography, edging out Samsung Galaxy Note8 and Huawei Mate 10 Pro (both scored 100).
DxO commended the iPhone X for very good exposure and accurate colors in all lighting conditions. The camera offered good detail with and without zoom and created natural-looking bokehs.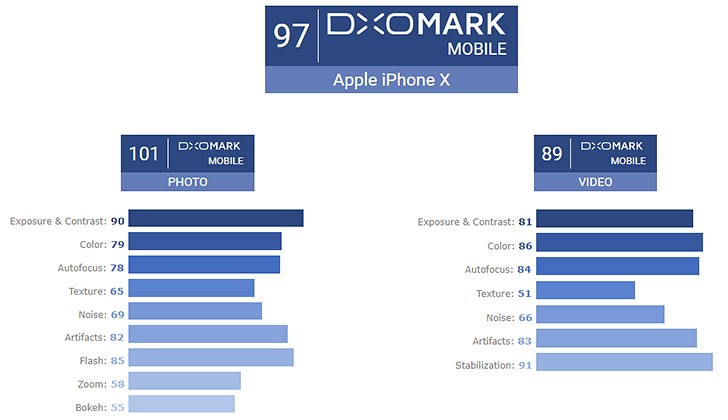 What DxO did not like was the "occasionally" slow autofocus and some issues with low-light performance – ghosting on moving objects and red-eye in shots with flash.
However, the iPhone X does not have the best video camera – it only scored 89 points, bringing the overall score down to 97. That puts it in second place, tied with the Mate 10 Pro. The image stabilization and some issues with low-light performance were pointed out as cons.
We pulled DxO scores into a table for quick reference:
| | | | |
| --- | --- | --- | --- |
| DxO scores | Photo score | Video score | TOTAL score |
| Google Pixel 2 | 99 | 96 | 98 |
| Apple iPhone X | 101 | 89 | 97 |
| Huawei Mate 10 Pro | 100 | 91 | 97 |
| Apple iPhone 8 Plus | 96 | 89 | 94 |
| Samsung Galaxy Note8 | 100 | 84 | 94 |
| Apple iPhone 8 | 93 | 90 | 92 |
| HTC U11 | 90 | 89 | 90 |
| Sony Xperia XZ Premium | 82 | 84 | 83 |
["Source-Gsmarena"]