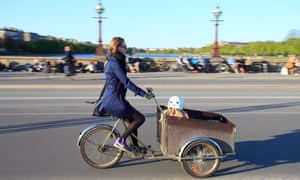 Kids cost a fortune to those of us foolish enough to have them. They're also not cheap for the state since we worked out that educating them is a good idea.
But what about the cost to businesses, at least in terms of parental leave? Those costs are central to debates about maternity and paternity leave policies. But new research says those costs are "small at best". The study dug into evidence from Denmark and examined the usual worries about parental leave – that firms will struggle without the worker or that their colleagues will be stressed by filling the gap.
The authors tracked specific employers and employees to see what happened to the former when the latter procreated. The findings are clear cut. Firms saw very little change in the number of hours of work done because they were usually able to respond by hiring temporary staff or increasing the hours of existing employees. Colleagues didn't seem particularly overworked and there was no effect on the number of sick days taken.
Overall, having an employee on parental leave had little impact on wage costs, sales or the firm's likelihood of survival.
Obviously, this was specific to Denmark's (very generous) system. In Britain, many firms do face costs from offering more than the statutory minimum maternity pay but the study should ease the fears of any business dreading a Brexit baby boom.
As 2020 begins…
… we're asking readers, like you, to make a new year contribution in support of the Guardian's open, independent journalism. This has been a turbulent decade across the world – protest, populism, mass migration and the escalating climate crisis. The Guardian has been in every corner of the globe, reporting with tenacity, rigour and authority on the most critical events of our lifetimes. At a time when factual information is both scarcer and more essential than ever, we believe that each of us deserves access to accurate reporting with integrity at its heart.
More people than ever before are reading and supporting our journalism, in more than 180 countries around the world. And this is only possible because we made a different choice: to keep our reporting open for all, regardless of where they live or what they can afford to pay.
We have upheld our editorial independence in the face of the disintegration of traditional media – with social platforms giving rise to misinformation, the seemingly unstoppable rise of big tech and independent voices being squashed by commercial ownership. The Guardian's independence means we can set our own agenda and voice our own opinions. Our journalism is free from commercial and political bias – never influenced by billionaire owners or shareholders. This makes us different. It means we can challenge the powerful without fear and give a voice to those less heard.
None of this would have been attainable without our readers' generosity – your financial support has meant we can keep investigating, disentangling and interrogating. It has protected our independence, which has never been so critical. We are so grateful.
As we enter a new decade, we need your support so we can keep delivering quality journalism that's open and independent. And that is here for the long term. Every reader contribution, however big or small, is so valuable.
["source=theguardian"]