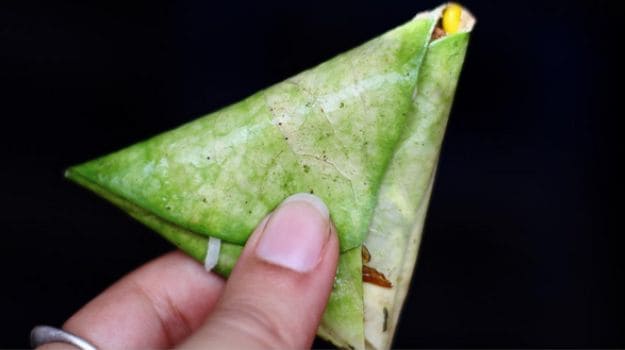 Image Credits: Instagram/fervilares
I learnt how to make paan from my eldest aunt. Every Sunday, she would open her big silver box, take out the freshly washed paan leaf, break the stem and hand it over to me. As I chewed on the stem, I would watch her lovingly smear a hint of slaked lime paste, sprinkle betel nut that she'd chop herself (she had a special nut cutter for it), add some black cardamom and fold it in gently before popping it in her mouth. She would make one for my grandmother too. That was their Sunday after-meal regime. Sometimes, if my grandmother felt generous, she would pick the smallest leaf from the box and give it to me. It was the best digestive on the planet, they would say.
I grew up in a family of paan-poppers, but no one else was allowed to touch my aunt'spaan ka dabba. The others had to source their customised paans from the local paanwala– some meetha (sweet) and some saada (plain). Plus, there were other requests too – less lime, more nuts, a little sweet, etc. The kids were of course, never given any.  Oddly, we never quite picked up on the habit either, which is why I ate my first meetha paan when I was probably in college. I had discovered the gulkand (the rose petal preserve) by then – a sickly sweet mix that I had read was good for health.
Who would have thought that the paan would eventually become inspiration for nouveaufood that had nothing to do with the original betel leaf!
My first experiment with a non-paan paan was at an Indian restaurant called The Pink Poppadum in Bengaluru about five years ago. They served something called a paan shotat the end of our dinner. It was possibly a blend of sweet paan leaves, cardamom seeds, ice cream or cold milk, and gulkand. I hated it. The idea of having to drink something that deserved the customary chewing, felt like I was betraying an age-old practice. But in little time, paan shots began to appear on the menu of upscale Indian restaurants across the country. Celebrity chefs by then had created their own recipes of paan shots too.
Today a paan shot will probably be considered too basic, given the various kinds of experiments that are going on with the betel leaf and its essence.
There's of course the paan kulfi, which I have been told has been available in Mumbai for generations. I remember standing near Chowpatty at a local kulfi shop, waiting in queue to try one. By then, my fascination for paan had waned. But it was more about trying something new that I had heard so much about. The slightly granular texture of the kulfidid capture the essence of the paan well, definitely way better than the paan flavoured ice cream I came to eat much later in Bengaluru again. In fact, Pabrai's at HSR Layout in the city serves a paan ice cream which reportedly has 17 different ingredients includingmulethi (an ingredient that's good for a sore throat). Rumour has it that one can even find a paan gelato (did I just hear the Italians groan?), though I am yet to find one.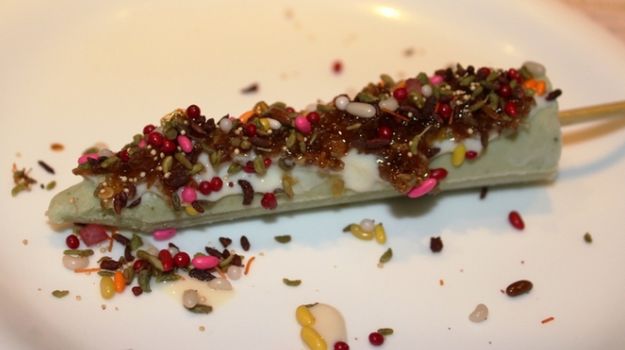 Image Credits: www.foodiye.com/Nishant
Chai Point in Bengaluru, which is the saviour of most chai addicts at work, offers something called a paan kulfi shake. It's a simple recipe of blended kulfi flavoured withpaan syrup.
Talking about drinking paan, the Novotel Bengaluru had come up with a cocktail called the Swadesh Videsh Paan. It was a giddy mix of white rum, Bailey's, betel leaf, gulkand, andmeetha paan masala. I am pretty certain that for those who like their cocktails sweet, it would have been a massive hit.
Given that the paan is considered to be one of the best after-meal treats, it was only a matter of time that it got into the dessert books. La Folie Patisserie in Colaba Mumbai makes a decent paan gulkand macaron. I am not sure if it will remind of walking the streets of Varanasi, but it tastes good, provided you can handle the sugar rush.
And then there's the paan mousse at SpiceKlub in Lower Parel – a 'fusion' restaurant. Making the most of molecular gastronomy (and in this country, it often means using liquid nitrogen to its maximum) this dish comes with a paan leaf wrapped around mousse, and then frozen with liquid nitrogen. So, there's a lot of smoke when it comes to your table, but very little fire.
["source-ndtv"]